Problem: Computer Display
Solution: The QuickTime Pro-enabled QuickTime Player can be used to display a DV movie at High Quality. To do this, open the movie with QuickTime Player, and select Get Info in the Movie menu. In the Movie Info window, select Video Track in the left pop-up menu, and select High Quality in the right pop-up menu. Check the High Quality Enabled checkbox to view the movie at full quality.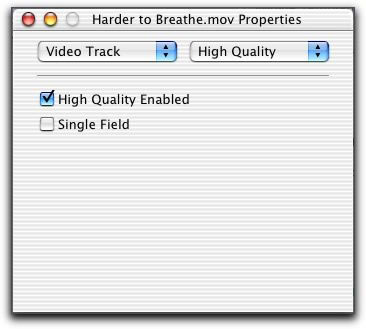 Frame rate will decrease substantially with this setting. The movie can be saved with this setting and from then on, when the Movie is played back in any application, it will be played at High Quality.
iMovie is going to show you a preview on it's display. The "high quality" setting in iMovie may help, but your are still looking at a preview. You need to check your work in it's final delivery format to see how it will look to your viewing audience. It could look better, or it could look worse than it does in your non-linear editing environment (NLE). There isn't an NLE in the world that can show you what your video will look like in it's final form.
Unless you are going to deliver high resolution video on a fast computer, I'd suggest you use slightly larger fonts. I think I'd have trouble reading your text on my NTSC monitor. If you video is delivered in a lower resolution, that will also pose a problem. If you are doing computer only delivery, you can try de-interlacing the final movie. Although that makes the playback look a little less smooth, each frame tends to be sharper, in my opinion. Extended answer by:

---